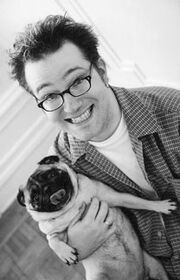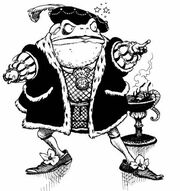 Tony DiTerlizzi is an American fantasy artist/illustrator best known for his work for Magic: The Gathering and co-creating The Spiderwick Chronicles series. He was born September 6, 1969 in Whittier, California, and currently resides in Amherst, Massachusetts. DiTerilizzi illustrated Ribbiting Tales: Original Stories About Frogs, which included drawings for Brian Jacques' contribution, It Came from Outer Little Pond.
Education:
Florida School of the Arts
The Art Institute of Fort Lauderdale, Graphic Design, 1992
Bibliography
Written by Tony Diterlizzi
Jimmy Zangwow's Out-of-This-World Moon-Pie Adventure (2000)
Ted, 2001
Arthur Spiderwick's Field Guide to the Fantastical World Around You (2005)
G is for One Gzonk (2006)
The Nixie's Song (2007)
Illustrated by Tony DiTerlizzi
Dinosaur Summer (1998)
Alien & Possum: Friends No Matter What (2001)
Alien & Possum: Hanging Around (2002)
The Spider & The Fly (2002)
Dragonflight (2002)
External Links
Ad blocker interference detected!
Wikia is a free-to-use site that makes money from advertising. We have a modified experience for viewers using ad blockers

Wikia is not accessible if you've made further modifications. Remove the custom ad blocker rule(s) and the page will load as expected.