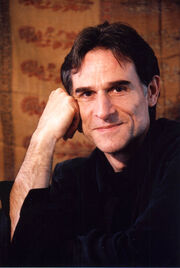 Troy Howell is an American artist and illustrator, known especially by his cover art for the Redwall series and Greek and Norse mythologies by Mary Pope Osborne. He is married with two children.
For the 10th Anniversary US edition of Redwall, Howell illustrated 6 full page color images.
Born: Long Beach, California
Education: Art Center, Pasadena, CA
Illustrators' Workshop, New York City
Resides: Falmouth, Virgina
Books
Troy Howell has drawn the US covers for all the Redwall novels released thus far, as well as A Redwall Journal. Howell has also drawn covers for the Tenth and Twentieth Anniversary Editions of Redwall.
Artwork
External Links