Urthclaw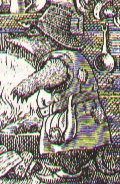 Urthclaw was a mole who was a member of the Corim. He was sent to warn Ben Stickle's family about a patrol from Kotir, and led them to their headquarters. Urthclaw, along with Billum and Soilflyer was an expert digging mole and dug the initial flood tunnels into Kotir.
Not to be confused with Urthclaw.
Ad blocker interference detected!
Wikia is a free-to-use site that makes money from advertising. We have a modified experience for viewers using ad blockers

Wikia is not accessible if you've made further modifications. Remove the custom ad blocker rule(s) and the page will load as expected.