Intro
Ho there, travelers! Welcome and feel free to look around. Forsyte Bladepaw: swordbeast, philosopher, devoted friend, and writer, is at your service.
Basic Info
Place of Origin: Southeast
Species: Badger
Gender: Male
Weapons: custom short sword(strapped to the back), tomahawk (thrust through his belt), a leaf-bladed fighting knife(hung from the right side of the waist), boot knife (where else would a boot knife be kept?) and a half-basket-hilt saber (hung from left side of the waist)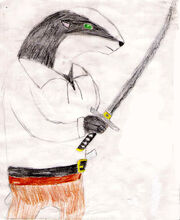 Background
Hailing from the lands of the Southeast, he has practiced the sword ever since he received a small double-edge single-hand broadsword as a young cub. Along with his blade skills, he became the student of a venerable hare who was willing to teach the badger the hares' art of kick-boxing along with traditional. When old enough, he learned the art of forging, like all warrior badgers will. From his forges came some of the best blades in his area: short swords, long swords, sabers, daggers, and knives. All of them were folded steel, and lasted the life of even the oldest beast.
When the warrior's urge urged his soul to questing, he brought with him his favorite blades: a short sabre, tomahawk, boot knife, and a single-edged fighting knife. When he arrived at Salamandastron, he forged a saber for himself with a brass basket hilt, and ray-skin grip, which became his primary weapon of choice. (see link for sabre design) [1] With these, and the lessons of freedom, honor, and bravery he learned from his parents, his ire became feared among vermin. But he is not without a softer side devoted to poetry and writing. Though not afraid to fight the good fight, peace is all he longs for.
Behind the fur and steel
I'm 21, and simply trying to get my life together. I have only one brother and sister, but the pair are worth 10 shrews. I prefer the mountains and nature, but I like being around people. I do practice the sword, like my persona, and will do whatever means are within my power to save those in need. Because of financial problems, I've had to teach myself the blade, which has worked better than I thought. And because of that, I've had to create my own wooden wasters in the past. However, I've lately been able to buy most of the training weapons, and have about finished collecting. How all that remains is to wait and train until I am able to buy the live steel blades.
Wherever I am meant to go in life, I will do my best to walk down that path. That seems to be the inevitable destiny of any warrior, whether in medieval or modern days.