Hi, I'm the founder of the Redwall Wiki, and I've been a Redwall and Brian Jacques fan since around 1995. I first joined the Redwall Online Community in 1997, and have been a member ever since.
While some have claimed to "outgrow" the magic of Redwall as they get older, I never have.
Please feel free to contact me regarding any copyright, news, or media inquiries. I'm also founder of the Dark is Rising Wiki.
Contact: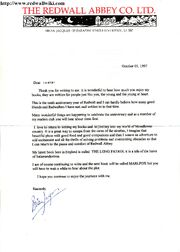 RIP Brian Jacques, 1939-2011.
Essays
Tour Stops
Brian Jacques Collection
Redwall
Hardcovers
Paperback
Redwall (1990 Avon edition)
Redwall (2000 Tenth Anniversary Edition)
Redwall (Czech edition)
Redwall (Chinese edition 1)
Redwall (Chinese edition 2)
Redwall (2014 UK Vintage Children's Classics edition)
Mossflower (1990 Avon edition)
Mattimeo (1990 Avon edition)
Mattimeo (1999 Ace edition)
Mattimeo (1994 Legend Books UK edition)
Mariel of Redwall (1993 Avon edition)
Martin the Warrior (1995 Ace edition)
Pearls of Lutra (1998 Ace edition)
Accessories
Castaways
Hardcovers
Paperbacks
Miscellaneous
Advances
DVDs