Club Redwall is a fan club made in honor of the Redwall Series and for the enjoyment of all who love them. It was started in mid 2009 by Riveneye. The original name, however was World of Redwall and the site was http://worldofredwall.webs.com/ with the forums on http://s1.zetaboards.com/World_of_Redwall/index/. The change came along when, months after the start of World Of Redwall, Riveneye (Riven as his nickname goes)sought to make his club the best that it could be. To do this, he needed to find someone with a partial wealth in digital and drawing abilities. This someone was Elip S. Quire. A friend that Riven had had on another Redwall club called DAB. Elip joined World of Redwall as an admin. on October 30th 2009 and soon after the name of the club was changed to Club Redwall.
===Stepping up=== to the call of duty, Elip began to make and design different high level pictures for Club Redwall, which were all to be added onto the main site. However, their host, "webs" did not allow html editing which was need to enhance the content of the images, so Riven and Elip began to search for another host. They found another host -not to be disclosed- that let them edit html. Soon after, when Elip logged on, his computer obtained a virus. Fearing for the safety of their members, this led to another search once again for a new host. This time they found yola.
===The new=== site became http://clubredwall.yolasite.com/ . During this procces, and at the recommendation of Elip, the prior main site then became their activity site. Centering Club Redwall around the home site, http://clubredwall.yolasite.com/ the main forum site, http://s1.zetaboards.com/World_of_Redwall/index/, and the Activity site, http://worldofredwall.webs.com/.
===By this time=== both Elip and Riveneye considered themselves joint admin.s in Club Redwall, a team working for the better of their club and the benefit of Redwall fans. It wasn't long before they both went deeper into ways to get more fans of Redwall onto their site and spread the word of Club Redwall everywhere. It was this 'delving deeper' that began to bring Club Redwall into the official Redwall scene.

-reading continues as this page is updated- Elip S. Quire 20:38, December 30, 2009 (UTC)

 ::::::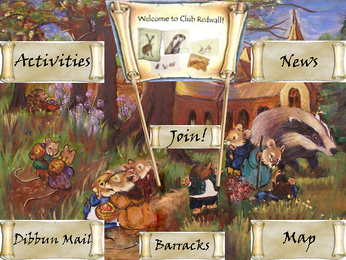 Ad blocker interference detected!
Wikia is a free-to-use site that makes money from advertising. We have a modified experience for viewers using ad blockers

Wikia is not accessible if you've made further modifications. Remove the custom ad blocker rule(s) and the page will load as expected.