Contributed by LordTBT at 5:13AM GMT, 04 March 2009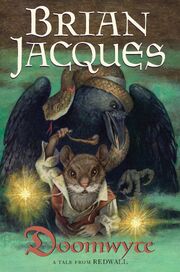 The US Doomwyte paperback previously listed on Amazon.com with a scheduled release date of September 29, 2009, has been postponed until January 26, 2010, which is perhaps the longest hardcover-to-paperback delay in recent history.
However, I expect around this date we can also plan to see The Sable Quean, as well as new Redwall novel re-releases, which is a good indicator.
Story Update 3/13/2009:
Earlier this week, Redwall.org announced that the Doomwyte paperback has been delayed until February 2010, however given that Amazon is still listing the aforementioned January 26 date, we will be sticking with that for now.
Related Stories
Ad blocker interference detected!
Wikia is a free-to-use site that makes money from advertising. We have a modified experience for viewers using ad blockers

Wikia is not accessible if you've made further modifications. Remove the custom ad blocker rule(s) and the page will load as expected.