Contributed by LordTBT at 5:52AM GMT, 4 March 2010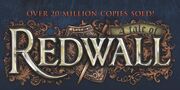 With the first round of new Redwall repackages having been published this past January, and another set scheduled for publication in August, it seemed uncertain regarding whether or not Doomwyte would receive a repackaged edition as well, considering the paperback was also published in January, and was emblazoned with the previous style of layout.
Well, it now appears as if Doomwyte will be joining the club with the rest of the novels. Penguin recently posted a new version of their Redwall Classroom Guide online, updated with the repackaging ensemble.
Within that Guide, I spotted a repackaged cover for Doomwyte, which would signal that in the future, we should be expecting a repackage of this book too, which means all 21 books will have the modern covers. Here's how they all look together:
Story Update: 4/11/10
Amazon now has a listing for a Firebird Doomwyte paperback scheduled for release on January 20, 2011, so that appears to be our repackage release date!
Related Stories
Ad blocker interference detected!
Wikia is a free-to-use site that makes money from advertising. We have a modified experience for viewers using ad blockers

Wikia is not accessible if you've made further modifications. Remove the custom ad blocker rule(s) and the page will load as expected.