Contributed by LordTBT at 6:29AM GMT, 15 November 2009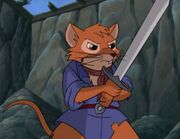 Today marks the launch of KidsCo, an international children's television network owned by NBC Universal, Nelvana, and Cookie Jar Entertainment, in Australia. KidsCo was designed to compete among the likes of Cartoon Network, Nickelodeon, and Disney, and has previously been introduced throughout Asia and the Middle East.
The Redwall TV Series is part of the new Australian KidsCo programming schedule, although this is not listed on the network's website. According to eBroadcast Australia, one of the country's top TV listing providers, Redwall episodes will air at 3:41 PM on weekdays, as well as 2:41 PM on Saturdays and 4:45 PM on Sundays. How long the show will be running for is currently unknown.
KidsCo plans to expand throughout Europe in 2010, and the United States is also forecasted to receive the channel.
Do you have KidsCo in your country? Does it air Redwall TV episodes? Let us know in the comments!
Related Stories