Contributed by LordTBT at 11:27PM GMT, 16 August 2011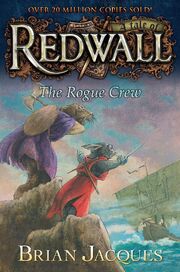 Amazon.com has posted details for the forthcoming Ace paperback for The Rogue Crew, which will be published next spring.
The price is listed at $7.99, with a page count of 368. In fact, you can even pre-order it now if you like, even though it's scheduled for release on April 24, 2012.
Want to keep up-to-date on all the latest Redwall and Brian Jacques news, reviews, and special features? Get social with us!
Related Stories