Contributed by LordTBT at 1:52AM GMT, 21 August 2009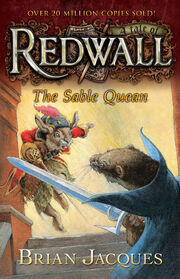 Redwall.org has announced in a surprising turn of events that the release date for The Sable Quean has been bumped up to this year, December 2009!
The Sable Quean has seen quite a bit of date changes over the past year, ranging from October 2009 and January 2010, before settling on what seemed to be the final date, February 23, 2010. Amazon.com actually still has this last date listed.
Be sure to check out the Redwall Wiki's advance review of The Sable Quean to see what's in store for the Redwallers.
Story Update 8/21/2009
It appears as if Redwall.org updated in error. While the La Dita Bookshop AND Redwall.org both said December 2009 yesterday, we are back to the original February 23, 2010 release. Sorry folks.
Related Stories
Ad blocker interference detected!
Wikia is a free-to-use site that makes money from advertising. We have a modified experience for viewers using ad blockers

Wikia is not accessible if you've made further modifications. Remove the custom ad blocker rule(s) and the page will load as expected.