Contributed by LordTBT at 12:16AM GMT, 24 March 2012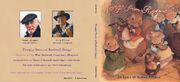 Songs from Redwall: 20 Years of Redwall Music has received an official MP3 downloadable release by the Redwall La Dita Bookshop at Redwallabbey.com.
The price of the album is £7 GBP, or $11.10 USD.
Want to keep up-to-date on all the latest Redwall and Brian Jacques news, reviews, and special features? Get social with us!