Contributed by LordTBT at 1:46AM GMT, 11 February 2010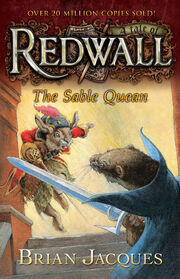 Up until I believe today, Amazon.com has been listing The Sable Quean for $16.19. Now, however, it is available for $12.95, which is almost half off the retail price of $23.99, and amongst the cheapest I have ever seen for a new release Redwall novel.
In fact, the price is cheaper than the cost for the Doomwyte hardcover, which is currently going for $16.31.
If you already pre-ordered The Sable Quean, fear not, as Amazon's pre-order guarantee affirms that you will receive the lowest price for the book, and you will be credited within 24 hours of the price change.
The Sable Quean will also be available for Amazon Kindle users with a price tag of $9.99.
Also worth mentioning, Barnes & Noble's website has The Sable Quean for $12.95 too, so it's possible a price war may be going on. How much the book will be selling for in brick and mortar stores could be different than online.
Update 2/12/2010
The price has reverted back to $16.19. Not sure what this means for pre-orders, if this was an Amazon error, or what. If anyone out there managed to order TSQ for $12.95, let us know in the comments.
Update 2/17/2010
We're back on folks! Listed as $12.95 again!
Update 2/19/2010
And back down to $16.19.
Update 2/21/2010
The fluctuation continues. Back to $12.95!
Update 2/24/2010
I hope everyone ordered it for $12.95 when they had the chance, because the price is now $14.03 and I doubt it's going back down.
Ad blocker interference detected!
Wikia is a free-to-use site that makes money from advertising. We have a modified experience for viewers using ad blockers

Wikia is not accessible if you've made further modifications. Remove the custom ad blocker rule(s) and the page will load as expected.