Contributed by LordTBT at 8:23PM GMT, 09 February 2010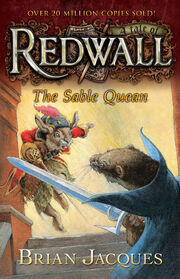 With 2 weeks to go until The Sable Quean hits bookshelves across the US, it's a bit unusual that we haven't seen anything related to the audio book that is usually released alongside the novel.
A few months ago, artist Sean Rubin confirmed to me that he was "definitely" the artist for the audio book, but was unaware of a scheduled release date.
In the past, we saw the Doomwyte audio book appear on Amazon 3 months prior to release, and the artwork 1 month away from the big day.
For The Sable Quean though, there's been nothing, with the exception of a listing in Redwall.org's shop. However I can only take that with a grain of salt considering the book has not popped up online in any of the normal places.
Let's hope we find out some news soon, as I know many fans truly enjoy the stories in this format.
Update 2/9/2010
Reader Benjamin has pointed out that the Recorded Books catalog is now listing the audio book for release on April 9, 2010 in cassette format ($56.75) and April 16, 2010 for CD ($44.95). Thanks Benjamin!
Ad blocker interference detected!
Wikia is a free-to-use site that makes money from advertising. We have a modified experience for viewers using ad blockers

Wikia is not accessible if you've made further modifications. Remove the custom ad blocker rule(s) and the page will load as expected.