Contributed by LordTBT at 6:41PM GMT, 10 April 2010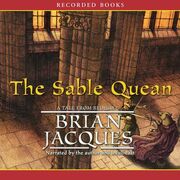 The Sable Quean audio book was officially released yesterday (4/9/10) on Audible.com, and with that, we finally have the cover artwork and an audio sample to share.
The cover artwork was drawn by the regular artist and new book interior artist, Sean Rubin. Unfortunately our image is a bit small at this time, but we hope to have that rectified soon.
Length for the audio book is 13 hours and 28 minutes. Listen to the sample below:
"The Sable Quean", 4m59s (
file info
) —
Related Stories
Ad blocker interference detected!
Wikia is a free-to-use site that makes money from advertising. We have a modified experience for viewers using ad blockers

Wikia is not accessible if you've made further modifications. Remove the custom ad blocker rule(s) and the page will load as expected.