Contributed by LordTBT at 1:58AM GMT, 10 July 2010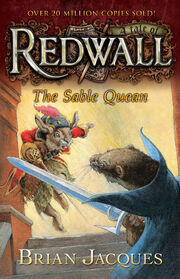 Those who have been anxiously waiting for the latest Redwall novel, The Sable Quean, to arrive in paperback format now have a date to look forward to: April 26, 2011.
Amazon.com has been updated with a page for the Ace paperback, which is listed with a $7.99 price tag.
Want to keep up-to-date on all the latest Redwall and Brian Jacques news, reviews, and special features? Get social with us!
Ad blocker interference detected!
Wikia is a free-to-use site that makes money from advertising. We have a modified experience for viewers using ad blockers

Wikia is not accessible if you've made further modifications. Remove the custom ad blocker rule(s) and the page will load as expected.