Contributed by LordTBT at 4:01AM GMT, 14 January 2010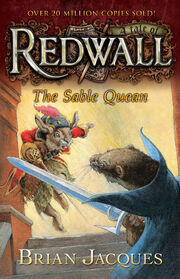 While not hosted at the new Redwall Experience website (yet?), Barnes & Noble is featuring a 49-second promotional trailer for The Sable Quean credited to the RE.
Consisting of artwork that appears to be Troy Howell's (obviously the TSQ cover, the rest I'm not 100%), and the sounds of a blowing wind, the following text appears:
The Citizens of Redwall are in Danger
An Evil Shade and his Villainous Ruler have devised a plan to conquer Mossflower Wood.
Can Buckler the Blademaster save the day?
Or will the Abbey fall under the reign of the Sable Quean?
No beast is safe in the latest Redwall adventure...
Watch the trailer below, and let us know what you think in the comments! How do you feel about trailers for Redwall books?
Related Stories
Ad blocker interference detected!
Wikia is a free-to-use site that makes money from advertising. We have a modified experience for viewers using ad blockers

Wikia is not accessible if you've made further modifications. Remove the custom ad blocker rule(s) and the page will load as expected.