Contributed by LordTBT at 6:10AM GMT, 05 May 2009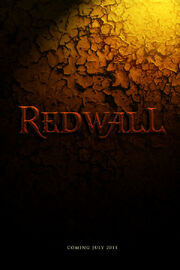 Happy Cinco de Mayo!
A couple of months ago we speculated on whether or not the Redwall movie project would be continuing, considering Brian Jacques was unaware of it and the redwallthemovie.com domain had been down for weeks.
Unfortunately, I have to say this project seems to never have been real in the first place, and the whole thing was some sort of elaborate lie.
Redwall Wiki editor Prard'ras'kleoni recently contacted Redwall.org to inquire about the film, and received this response:
Thank you for your enquiry. We were aware that a company called Imagen films were advertising a Redwall Movie for release in 2011 via a website called redwallthemovie.com. Unfortunately, however, the information contained at that site was/is untrue. Brian Jacques and the Redwall Abbey Company have never negotiated any film deal with Imagen. There are no plans at present to produce a Redwall Movie but any future projects will be announced first at www.redwall.org.
On April 19th, 2008, someone from Imagen explicitly stated in an e-mail to me the following: "We have secured film rights and are developing a live-action/CG version of Redwall", and I'm evidencing this via a screenshot of this e-mail below.
Also of note, is that Imagen Films seems to no longer exist. The imagenfilms.com domain redirects to some sort of forthcoming new company called "The Speculative", owned by former Imagen Films registrant Marty Martin. Imagenfilms.com is now owned by an entirely different person, James Maki.
Hopefully at some point we will see a Redwall film, sadly it doesn't look like any time soon.
Related Stories
Ad blocker interference detected!
Wikia is a free-to-use site that makes money from advertising. We have a modified experience for viewers using ad blockers

Wikia is not accessible if you've made further modifications. Remove the custom ad blocker rule(s) and the page will load as expected.