Contributed by LordTBT at 9:16PM GMT, 12 January 2013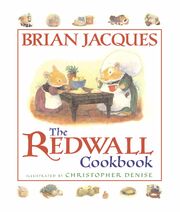 It's a new year, and we are introducing a new feature series here at the Redwall Wiki. As this is being written, The Redwall Cookbook is en route to our library here at HQ.
In the interest of producing more content, which as there has been very little news has been quite difficult, we will be launching a new feature series.
In the past, many Redwall home cooks have prepared dishes inspired by the Redwall series, some of whom who have been kind enough to share and upload the recipes and pictures.
However, we have not heard of anyone preparing every single dish in The Redwall Cookbook for consumption and review. And it is to that end we are taking up this task just for our readers, fans, contributors, editors and followers.
Fear not, as I do enjoy both cooking and eating, neither are something I find difficult or not enjoyable.
Over the coming months, every recipe will be prepared, photographed, eaten and reviewed, and all of it will be posted here.
I'm going to be shooting for 2 recipes a month, possibly more if there is time.
Want to keep up-to-date on all the latest Redwall and Brian Jacques news, reviews, and special features? Get social with us!