Contributed by LordTBT at 5:03AM GMT, 20 June 2009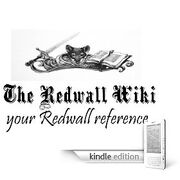 Last month, we announced that the Redwall Wiki News Feed had become available for download via the Amazon.com Kindle Store, however at the time Amazon had set the price at $1.99 per month.
As we stated before, we wish it were free, however Amazon.com determines the rates for their Kindle blog service.
Fate's winds have blown our way, however, as Amazon decreased the price for the Redwall Wiki News Feed by an entire dollar bill! That's right, it's now only $0.99 per month, so if you thought the previous $1.99 per month price was a bit up there (and we'd be inclined to agree), now might be the time to join the party.
Also worth repeating is that there is a 14-day free trial which you can cancel at any time without penalty. We would love to see some pics of a Kindle with the Redwall Wiki on it!
Related Stories
Ad blocker interference detected!
Wikia is a free-to-use site that makes money from advertising. We have a modified experience for viewers using ad blockers

Wikia is not accessible if you've made further modifications. Remove the custom ad blocker rule(s) and the page will load as expected.