Contributed by LordTBT at 11:29PM GMT, 07 August 2010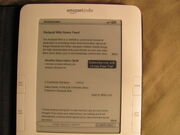 This weekend Amazon has launched a Kindle store for UK consumers, allowing for much more affordable prices on Kindle products. Previously, UK Kindle owners would have to access the US site and pay for downloads in US dollars, now they can pay using their own currency, pounds sterling.
The store currently has over 400,000 titles, and claims the "lowest prices of any e-bookstore in the UK."
Also worth noting is that the new Kindle 3 will be released at the end of the month, which includes new features such as increased memory (4GB, or 3,500 books) and reduced weight (8.7oz).
For the sake of comparison, the following is a list of all US and UK Brian Jacques-related titles in either store, with their prices.
US Kindle Store
UK Kindle Store
Want to keep up-to-date on all the latest Redwall and Brian Jacques news, reviews, and special features? Get social with us!
Related Stories