Contributed by LordTBT at 3:07AM GMT, 19 February 2011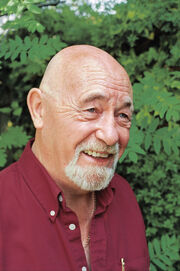 I've been informed that there will be a memorial service for Brian Jacques at the Liverpool Anglican Cathedral on 4/3/11, and if I'm reading UK dates properly, that is March 4, 2011. The time as of now is not confirmed, however anyone wishing to pay their last respects is welcome to attend.

Update: 2/20/2011
Redwall.org has now confirmed the time of the service, which will be a celebration of the life of Mr. Jacques, and that time is 11:00AM.
Update: 3/4/2011
Audio and video from the service:
Liverpool Echo Memorial Service Video, 2011
Brian Jacques Memorial Service, Liverpool Echo
Audio from Memorial Service, 2011
Brian Jacques Memorial Service
Want to keep up-to-date on all the latest Redwall and Brian Jacques news, reviews, and special features? Get social with us!
Related Stories