Contributed by LordTBT at 3:59AM GMT, 26 February 2010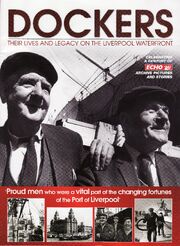 A new publication focusing on Liverpool's history of dockers was published earlier this week, and it features an interview with Brian Jacques.
The book, Dockers - Their Life and Legacy on the Liverpool Waterfront, was compiled by Liverpool Echo journalist Peter Grant, and features many photos from the Liverpool Echo and the Liverpool Daily Post. Described as more of a 'souvenir', this 84-page special is only available in the UK at local news stands, or you can find it at the online MerseyShop for £3.99 ($6.09) plus shipping.
The official product description is as follows:
A unique insight into the lives of men who were the backbone of the city.
The docker is a symbol of Liverpool – just like the Liver Bird. Proud men who were a vital part of the changing fortunes of the Port of Liverpool.
Compiled by local author and journalist Peter Grant, the son of a docker, this 84-page souvenir special explores the colourful history of Liverpool's dockland and the legacy of the legendary men who worked there.
Dockers are the world's greatest storytellers and this publication is full of fascinating tales of life on the waterfront. Featuring interviews with Tom O'Connor, Mickey Finn, Stan Boardman, Brian Jacques, Jimmy McGovern, Alan Bleasdale and Ricky Tomlinson; the stars and celebrities who owe dockers a living reveal their memories – from the pubs on every corner to the passion of the strikes – giving interesting, enlightening and often hilarious first-hand accounts of life in and around the docks.
With over a hundred photographs from the archives of the Liverpool Daily Post and Echo, 'Dockers' takes you on a compelling journey inside the Mersey quayside's lives and loves, from the vital role of the Overhead Railway and tug boats, to the dockers' witty and comical nicknames for each other.
Packed with images and stories of bygone days, this is a tribute and celebration of the Liverpool docker – past, present and future.
Ad blocker interference detected!
Wikia is a free-to-use site that makes money from advertising. We have a modified experience for viewers using ad blockers

Wikia is not accessible if you've made further modifications. Remove the custom ad blocker rule(s) and the page will load as expected.