Contributed by LordTBT at 5:29AM GMT, 29 January 2011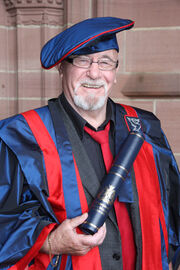 In autumn 2010, Liverpool's Central Library, a 150-year-old institution, closed and work began on a £50 million (~ $79 million) restoration project; given the scope of the work, the library is scheduled to re-open in spring 2013.
The new developments include technological updates and big repairs, as well as more archival storage.
Additionally, a stone walkway is being constructed that will honor Liverpool's cultural figures and works.
On the back of the building, a panel being described as "Literary Liverpool" will feature writers who were "born in the city, or lived, worked, visited or were influenced and inspired by Liverpool." The names of these writers will be engraved.
The Liverpool City Council compiled a shortlist of 52 well-known writers for this panel, and our man Brian Jacques has made it!
What isn't known at this time is how many of these names will make the panel, which is why it is important that we get out the vote for Mr. Jacques, who was voted one of the top 10 Merseysiders in 2007.
As this is a Liverpool library, I'm under the impression that only Liverpudlians should be voicing their opinion to the Liverpool City Council in regards to this.
That being said, if you're from Liverpool (or perhaps know someone who is), the Council is asking for feedback on who to include on the Literary Liverpool panel. You can fill out an online form, or send an e-mail to libraries.enquiries@liverpool.gov.uk
The Council will be taking submissions until 5PM local time, February 11, 2011. Let's make sure Brian is on that panel!
Want to keep up-to-date on all the latest Redwall and Brian Jacques news, reviews, and special features? Get social with us!