Contributed by LordTBT at 8:05AM GMT, 21 November 2009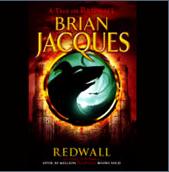 Seeking to "ease the stress of the Thanksgiving holiday" this year, Audible.com is offering one free audiobook download from a selection off their website, and Redwall happens to among the group!
No credit card is necessary for the download, you just have to register a free account with Audible, and download their special listening software to play the files.
The download is divided into two parts.
Part One is 6 hours, 29 minutes, and consists of an 88.9MB file. Part Two is 6 hours, 10 minutes, and consists of an 84.7MB file.
Also worth noting is that this edition of the audiobook is the digital release from 2007, so Stuart Blinder is narrating instead of Brian Jacques.
The offer expires November 26, 2009, at 11:59 PM EST, so jump on it now!
Related Stories
Ad blocker interference detected!
Wikia is a free-to-use site that makes money from advertising. We have a modified experience for viewers using ad blockers

Wikia is not accessible if you've made further modifications. Remove the custom ad blocker rule(s) and the page will load as expected.