Contributed by LordTBT at 11:59PM GMT, 03 December 2014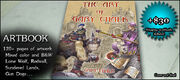 Earlier this afternoon, the Kickstarter hosted by Redwall illustrator Gary Chalk successfully reached and surpassed its goal of $30,000. The wargame/boardgame project will be financed, and just in the nick of time, as there are only 42 hours to go.
This is still a great time to get involved though, especially if you're a fan of Chalk's art. Contributing $30 will now guarantee that you receive a copy of his artbook, which of course includes works from Redwall series.
There are also several stretch goals for the game, depending on if additional funds are donated.
Follow the link to learn more. And congrats to Mr. Chalk and co.!
Want to keep up-to-date on all the latest Redwall and Brian Jacques news, reviews, and special features? Get social with us!
Related Stories
Ad blocker interference detected!
Wikia is a free-to-use site that makes money from advertising. We have a modified experience for viewers using ad blockers

Wikia is not accessible if you've made further modifications. Remove the custom ad blocker rule(s) and the page will load as expected.