Contributed by LordTBT at 7:50PM GMT, 28 February 2015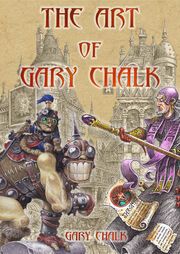 An important update has been released in regards to the artbook reward from Redwall illustrator Gary Chalk's Lone Wolf Kickstarter:
If you backed this reward, your copy of the artbook will be signed by the man himself!
According to the Kickstarter campaign, 38 people pledged funds for the book, while an additional 53 pledged for the game and the artbook, so 91 lucky backers should be receiving the artbook with Mr. Chalk's official autograph.
A new website has also been launched so that others can pre-order the Lone Wolf game or the artbook. The artbook pre-order price is £24.50 or $37.82, which means Kickstarter backers saved $7.82, and likely more as I'm sure the price will increase after it's published.
Pre-ordering the artbook at this time will not necessarily guarantee you an autographed copy, but it's possible it could happen.
Want to keep up-to-date on all the latest Redwall and Brian Jacques news, reviews, and special features? Get social with us!
Related Stories
Ad blocker interference detected!
Wikia is a free-to-use site that makes money from advertising. We have a modified experience for viewers using ad blockers

Wikia is not accessible if you've made further modifications. Remove the custom ad blocker rule(s) and the page will load as expected.