Contributed by LordTBT at 12:21AM GMT, 26 February 2016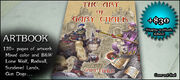 Last month, we revealed that there was a bit of trouble brewing in regards to the Gary Chalk Lone Wolf Kickstarter project, which essentially revealed it was out of money and working on options for backers.
Over the past several weeks, things have turned ugly.
Internal disputes have spilled out into the public, with finger-pointing, name-calling and the all-around blame-game as to why issues have arisen, money has vanished, and pledges haven't been fulfilled.
On February 25, a long-awaited update that was supposed to explain everything appeared. The main reward, the Lone Wolf board game, has been completed, and those who donated for that can unfortunately submit a bit more money to have it shipped.
However, as this site's emphasis is Redwall, we're going to focus a bit on the artbook, which was to feature Redwall artwork.
Per Richard S. Hetley, one of the campaign managers, at this time the artbook is only "partially completed," and the news gets worse, emphasis mine:
"The problem is that only about half of Gary's legally-available artwork has been found and scanned. All Lone Wolf art is ready. Gun Dogs, the more recent project Gary Chalk released with Jamie Wallis, was available from the start. Sundered Lands has a few pieces ready. But there is zero Redwall."
There was no explanation for any of this (Where is the missing artwork? What's taking so long? Is a search ongoing? Why was this even featured as a reward if the art wasn't around to begin with?), over a year after funding of the project.
Hetley has suggested the campaign's next steps may involve 1) waiting it out for who knows how long until artwork is possibly procured and/or 2) "accepting fewer illustrations in Gary Chalk's artbook," which would be a blow to every single Redwall fan that backed this project.
Can you demand a refund? Maybe. But as they're out of money, it seems doubtful that you'll get it. So seemingly no artbook or at best an incomplete one, and no refund. Things could change, but again, it all looks to be up in the air.
Want to keep up-to-date on all the latest Redwall and Brian Jacques news, reviews, and special features? Get social with us!
Related Stories