Contributed by LordTBT at 11:50PM GMT, 02 March 2009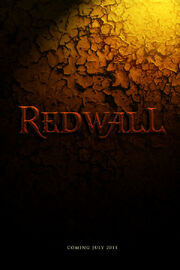 Last spring, we reported on the emergence of redwallthemovie.com, a site that appeared to be the domain for a Redwall-themed movie set for release in July 2011.
The production company, Seattle-based Imagen Films, informed me via email that they were indeed developing a Redwall film.
However, when I met with Brian Jacques last October, he seemed uncertain of what I was talking about when I mentioned the movie.
Now, approximately a year from when we announced the existence of the film, the redwallthemovie.com website is down, and has been down for several weeks now. The domain is still registered through September 2009, though.
Imagen Films has failed to return inquiries for comment on this issue, and one is left to wonder, is the Redwall movie still going to happen? I guess it remains to be seen, however like other Redwall film ventures of the past, it's not looking good.
Related Stories
Ad blocker interference detected!
Wikia is a free-to-use site that makes money from advertising. We have a modified experience for viewers using ad blockers

Wikia is not accessible if you've made further modifications. Remove the custom ad blocker rule(s) and the page will load as expected.