Contributed by LordTBT at 11:55PM GMT, 1 August 2016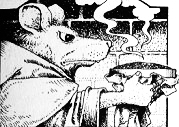 (Note: Our blogging platform had difficulty with the title "It's #RedwallAugust")
Back in June, a food blog called The Gluttonous Geek shared their recipe for "Grayling a la Redwall," the dish eaten at Redwall Abbey after Matthias and Brother Methuselah's fishing outing in Redwall.
A few days ago, the Mossflower-inspired "Fennel and Celery Stew with Hazelnut Dumplings" creation was posted.
The Fiction Food-Café has developed the hashtag #RedwallAugust for food bloggers to share Redwall-inspired dishes all month long on any social platform you want (Twitter, Instagram, etc.).
If you're interested in cooking, follow along to share your own dish or discover others.
They'll also be collecting original recipes shared on the hashtag here.
Need some ideas? Look to the Redwall Food and Redwall Beverages articles!
Want to keep up-to-date on all the latest Redwall and Brian Jacques news, reviews, and special features? Get social with us!