Contributed by LordTBT at 12:43AM GMT, 25 November 2009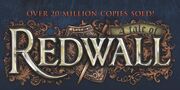 Penguin has announced further additions to the 2010 Firebird Redwall paperback re-packaging effort in their summer 2010 catalog.
The following titles will be released some time next August:
Including the forthcoming The Sable Quean, this will make 20 known books with the new covers. The only book yet to have a new cover announced for it is Doomwyte.
Check out the newest covers below:
Related Stories
Ad blocker interference detected!
Wikia is a free-to-use site that makes money from advertising. We have a modified experience for viewers using ad blockers

Wikia is not accessible if you've made further modifications. Remove the custom ad blocker rule(s) and the page will load as expected.