Contributed by LordTBT at 11:23PM GMT, 26 April 2013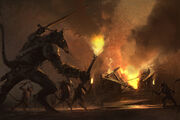 Soma Games has officially launched their much-anticipated Kickstarter project for Redwall: The Warrior Reborn, their Redwall video game effort.
They hope to raise $11,000, and while the game is being developed an interactive Minecraft map will be constructed for the community.
Rewards for donations include a name check in the game's credits, an invitation to attend a launch feast featuring Redwall cuisine, game artwork, special sculptures and more.
The company describes their "biggest goal" as "engag(ing) the kinds of fans that live and breathe Redwall."
While no new details about the game are available at this time, it would appear as if they're awaiting donor input before progressing too much.
If you're interested in sending them some money (and you should be), click here to view the page.
As of this posting, they've already raised over $2,000.
Want to keep up-to-date on all the latest Redwall and Brian Jacques news, reviews, and special features? Get social with us!
Related Stories