Contributed by LordTBT at 2:47AM GMT, 10 September 2016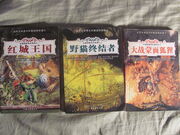 Back in 2013, we first explored the Chinese editions of Redwall. It was during this review that we learned that one of the editions of Redwall contained original artwork that we hadn't seen before, and I observed that it looked like editions of Mossflower and Mattimeo were also published by the same company.
The Redwall Wiki library is now in possession of those very editions of Mossflower and Mattimeo, and I'm pleased to announce my hunch was correct- more never-before-seen artwork was inside!
I am going to dub this collection the "CFP" or China Film Press trilogy. Each back cover keeps the same framing.
From what I can tell, I think each book has a different illustrator (or group of illustrators). To me, the artwork is very, very different depending on the book.
We'll start with Mossflower - 野猫终结者.
The strange thing about these drawings is that most of them feature the character or characters from behind, or at a distance. It was rare that a close-up or detailed drawing was available, and it sort of became comical as I perused the book...maybe THIS time we'll see someone's face...nope! The characters also tend to be tall and lean, which very much reminds me of the fan artwork of Erin the Swordmaker.

Next is Mattimeo - 大战蒙面狐狸.
What a huge difference! There's a lot to take in here...and I'll just let the art speak for itself. Wow!

This isn't the last we'll see of Chinese Redwall here at the Redwall Wiki, and we have many more features coming soon! Maybe sooner than you think! ;)
Want to keep up-to-date on all the latest Redwall and Brian Jacques news, reviews, and special features? Get social with us!