Contributed by LordTBT at 12:42AM GMT, 15 August 2015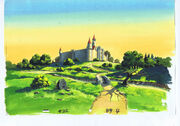 Over a year ago, we broke the news that Redwall TV Series production art was available for purchase on eBay.
During the past year, many, many pieces of original artwork from the show has popped up from that same eBay seller. We're delighted to announce that the Redwall Wiki library has acquired some of that artwork, and it sure is beautiful to see the sketches and hand-painted backgrounds from the talented artists in person.
Here, we'll share a few of the favorites in our collection. These examples do not consist of everything we have, just a sampling.
We were looking for certain representative artwork - a hero, a villain, a major location.
The official photos from the eBay seller cover what it looks like fairly well, with one exception - the fantastic Redwall Abbey background scene:
We'd definitely recommend the TV series artwork for any Redwall fan. You can find it in the iCollect-Online eBay store, but be prepared. Someone else might be interested in snapping up the same item as you - I've seen quite a few bidding wars ensue. ;)
Season 1, Episode 12 -

Underground
Others
Want to keep up-to-date on all the latest Redwall and Brian Jacques news, reviews, and special features? Get social with us!