Contributed by LordTBT at 9:08PM GMT, 26 March 2017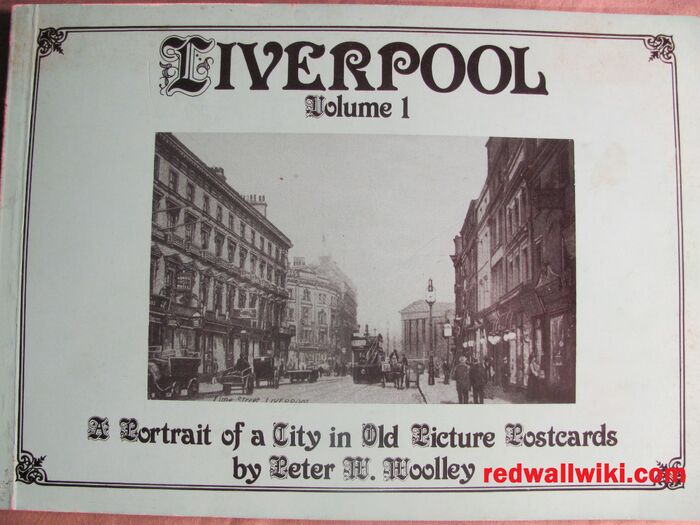 Liverpool: A Portrait in Old Picture Postcards Vol. 1 is a 1988 book by author Peter W. Woolley. The 88-page volume contains a collection of postcards from the early 1900s that chronicle life in the city of Liverpool. Each page features a different postcard, with a description of the building, location, or people depicted on it.
Essentially, this book provides a portal through time into how Liverpool looked over a century ago. Amongst the featured postcards: The Overhead Railway, Lime Street, and Dale Street.
Brian Jacques, who was a popular BBC Radio Merseyside personality at the time of its publication, provided the one page foreword to the book.
It would be inappropriate to quote the text of the entire page, so I'll excerpt some interesting bits.
What a treasury of nostalgia lies in these old postcards, it's a bit like finding that ancient handbag full of photographs on the top shelf of Grandma's wardrobe; nostalgia hits you like a tidal wave!
I have thoroughly enjoyed Peter's books...having a fair bit of knowledge of the Bootle area, in particular its docks, where I roamed as a lad in the school holidays, skipping 'rackers' chewing copra, pinching 'Togy' (soft brown sugar) and avoiding the cocky watchman at Arbuckle Smith's, where the black molasses oozed down a long chute from tanker to warehouse.
Deus nobis haec otia fecit. God has provided for us this leasure.

If a history lover is interested in how Liverpudlian life was at the beginning of the 20th century (and how it has changed since), this is certainly the book for you.
Want to keep up-to-date on all the latest Redwall and Brian Jacques news, reviews, and special features? Get social with us!