Comments

0
News:Redwall Collectors Community: Redwall/Castaways Sampler
Contributed by LordTBT at 9:46PM GMT, 4 January 2010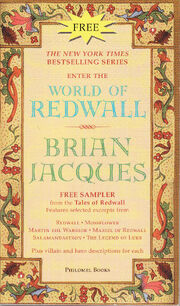 I thought we'd kick in the new year with a new edition of Redwall Collectors Community. This time, I'll be examining the Redwall/Castaways Sampler.
For a while, this item was described as the "World of Redwall Sampler" here at the Redwall Wiki, given the lack of any other visible title on the product. And given that the only copy of the sampler I could find was listed by an independent seller for over $100, which I would describe as extortion, I patiently bided my time until something much more affordable appeared.
The Redwall/Castaways Sampler is a 136 page book designed to provide brief excerpts from Brian Jacques novels to educate and recruit potential new readers.
It begins with a letter from Mr. Jacques, who emphasizes the importance of knowing who you are, love and acceptance, and courage:
A Redwall warrior is not someone who has twenty-seven black belts in karate, or can deliver twenty-eight kicks in three seconds flat. The Redwall warrior is not the muscle-bound Goliath of pop culture. The true Redwall warrior is easily recognized as the one who has the love and trust of their friends and families; the support and admiration of their community. A true Redwall warrior is intelligent and kind, courageous and daring, but is not boastful, and does not seek honours.
Excerpts from six Redwall novels are then provided, each prefaced with a few media quotes on the book.
These include chapters one and two from Redwall, Mossflower, Martin the Warrior, Mariel of Redwall, Salamandastron, and The Legend of Luke complete with their chapter icons.
Then a list entitled 'Heroes of Redwall' appears. Martin the Warrior, Luke the Warrior, Mariel Gullwhacker (as Mariel of Redwall), Matthias, Urthstripe the Strong, and Mattimeo are in this list, with a paragraph character description.
Following this list, the 'Villains of Redwall' come next, with similar descriptions of Badrang the Tyrant, Tsarmina Greeneyes (as Tsarmina the Wildcat), Vilu Daskar, Ferahgo the Assassin, Cluny the Scourge, and Gabool the Wild.
A spread called 'The World of Redwall' displays the cover and publication year of most of the Redwall novels, ending with Loamhedge. It is here that the Redwall section ends.
To read the Castaways part of the book, it must be flipped over and re-opened. Chapters one and two from Castaways of the Flying Dutchman and The Angel's Command, complete with their chapter icons, are printed. A 'Castaways Characters' section follows, and it's actually more of a summary of the first half of Castaways of the Flying Dutchman than an analysis of Ben and Ned. Like the first part of the sampler, the covers of these books are then displayed as well.
Overall, I found this to be an effective promotion of the Redwall saga and the Castaways series, and couldn't help but wonder where I was when these were being handed out for free.