Contributed by LordTBT at 11:46PM GMT, 09 August 2010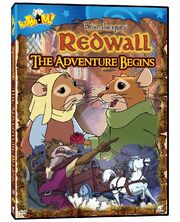 This past spring, the Redwall TV Series returned to Region 1 DVD with the re-release of Redwall - The Adventure Begins under the title Redwall: The Adventure Begins via Kaboom Entertainment.
My own personal experience with the TV series is very limited. I remember when it aired every Sunday morning on PBS, however I was in high school at the time and worked weekends, so I was unable to watch. This was also a time before DVRs, so I couldn't record it; setting up a VCR timer would not have been possible either.
Then, a few years later, when the DVDs were first issued, I expected them to stick around a while, however this was not to be, resulting in independent sellers hijacking prices to rates of extortionate proportions and myself without the DVDs.
I was very happy to hear of this re-release, because there is promise that all of the other DVDs will be re-released as well. However, not wanting to potentially lose out again, I decided to purchase Redwall: The Adventure Begins as I know it's available, and hey - it's only $7.99. You cannot beat that price for a DVD.
So let's talk about it. The DVD itself is fairly standard - inside the case there is no pamphlet or leaflet with information about the disc or any forthcoming Kaboom releases, just a plain disc.
There are no special features on the disc either - just the first six episodes of season one, with the option to change the language audio track to French.
As someone who has become accustomed to high definition blu-ray in recent years, describing the picture itself as "good quality" is a bit of a stretch in my opinion, as it is just regular DVD. Like I stated last year, one can only hope for a Redwall blu-ray release.
While my access to the Redwall TV series has been limited, I distinctly recall Brian Jacques himself appearing at the end of each episode, and this appearance seems to be missing on the DVD as we just get the animated story.
As of press time, Kaboom has not returned e-mails in regards to whether or not we will see more Redwall DVDs for certain, so it seems up in the air. Below find captures of the DVD menus, and images of the disc itself and back cover.
Want to keep up-to-date on all the latest Redwall and Brian Jacques news, reviews, and special features? Get social with us!