Contributed by LordTBT at 8:56PM GMT, 27 September 2015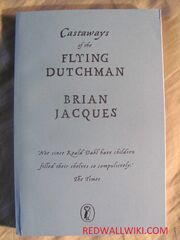 Welcome to the 16th entry in the Redwall Wiki's ongoing series about collectibles.
Castaways of the Flying Dutchman was Brian Jacques' first non-Redwall novel (his last non-Redwall book, Seven Strange and Ghostly Tales, was published in 1991), and published back in 2001.
In the UK, Castaways was published by the Puffin and Viking imprints of Penguin - and before it reached the masses, a very special Advanced Readers' Copy was released.
There are always a limited number of ARCs available, however in the case of the UK edition of the Castaways ARC, we have a specific amount: 400.
And each of these rare 400 copies are signed and numbered by Mr. Jacques himself.
As you can tell in the pictures, the ARC is devoid of David Wyatt's UK cover artwork, however inside, all of Ian Schoenherr's illustrations are intact.
As for the ARC number the Redwall Wiki has? 394.
Indeed, such an item is something for any Redwall collector and enthusiast, given its specified numbering and author signature.
Want to keep up-to-date on all the latest Redwall and Brian Jacques news, reviews, and special features? Get social with us!