Contributed by LordTBT at 3:13AM GMT, 30 November 2014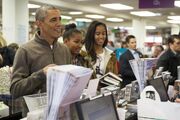 In the United States, Nov. 29 was recognized as "Small Business Saturday." For the second year in a row, President Barack Obama visited local Washington, D.C. bookstore Politics & Prose with his daughters Malia and Sasha.
In total, the First Family purchased 17 different books, and three titles of Brian Jacques' Redwall series were among them, including Redwall, Mossflower, and Mattimeo!
Previously, the family of UK Prime Minister Tony Blair cited the Redwall series as some of their favorites and even invited Mr. Jacques to Number 10 Downing Street for a chat and a spot of tea.
It appears that Redwall has now received a place in another Western government residence. Hopefully the Obamas enjoy the books.
To see video of the encounter at Politics & Prose, click here. See if you can identify the Redwall books being handed to the cashier!
We closely examined the clip ourselves - the Redwall books are handed over for checkout by the President himself - and they appear to be paperback editions. If you look at the bottom of the first picture, you can see Mattimeo, topped by Redwall.
Also, we've found a clear shot of Redwall in the President's shopping basket.
Want to keep up-to-date on all the latest Redwall and Brian Jacques news, reviews, and special features? Get social with us!