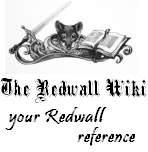 Redwall Wiki Celebrates 10 Years Online
Where has all the time gone?
Ten years ago, the Redwall Wiki emerged online. I would never have believed that today, in 2015, we'd have a rich database with 3,037 articles, approximately 5,136 images (2,636 of which constitute fan artwork), and around 726 fan fiction contributions.
Wow.
Even though it appears that there may never be another Redwall novel (but as we reported last month, who knows?), we will strive to ensure that new and old Redwall fans have a great communal gathering place and information resource.
There are still endless avenues of Redwall and Brian Jacques to explore, and in the coming weeks, we will have more features of interesting items, amid other announcements.
A special thanks to everyone who has and continues to make the Redwall Wiki such an amazing website, and we look forward to another 10 years!
REDDDWALLLLLLLLLLL!
Want to keep up-to-date on all the latest Redwall and Brian Jacques news, reviews, and special features? Get social with us!