Contributed by LordTBT at 11:34PM GMT, 8 July 2014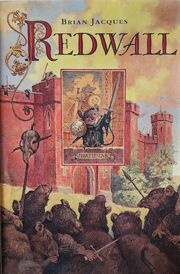 Oh boy. Here we go again. Earlier this year, Working Element, a production company helmed by Darren Thomas, announced that Redwall was in its portfolio.
On June 26, an IMDB page for a Redwall movie popped up with a 2014 release date. Digging a bit deeper, it is listed under "optioned" status, with the following summary attached:
Matthias, a young mouse, embarks on a quest to recover a legendary sword to save Redwall from Cluny the Scourge.
Let's turn to Wikipedia for a moment:
In the film industry, an option is a contractual agreement between a potential film producer, such as a movie studio, a production company or an individual, and a writer or third party who holds ownership of a screenplay. The agreement details the exclusive rights, including the specified time period and financial obligations, the producer has to advance the essential elements, such as financing and/or talent, towards the creation of a film based on the screenplay.
To be more specific, when a screenplay is optioned, the producer has not actually purchased the right to use the screenplay; he has simply purchased the "exclusive right" to purchase the screenplay at some point in the future, if he is successful in setting up a deal to actually film a movie based on the screenplay.

This does not guarantee a Redwall movie will be made. Given the history of Redwall Film Adaptations, let's just keep our fingers crossed, and remain hopeful of course.
Darren Thomas is primarily known for producing a video, "For My Country," and the 2013 "Stargate SG-1: Unleashed" video game.
This is his official LinkedIn bio:
As President of Working Element, Darren has worked as both a creative and strategist for the entertainment industry. Beginning in mid 2010 Darren developed and implemented a content aggregation strategy that has yielded a strong and recognizable portfolio of IPs. In addition to acquisition and content development, Darren works with three partner companies to implement funding strategies for transmedia properties. Working Element currently holds rights to 5 book series and 44 individual titles.

We've reached out to several parties for comment and hope to hear back soon.
UPDATE 7/9/14
Mr. Thomas has responded, and while he couldn't say much at this time, an "official announcement" is forthcoming, and they "hope the fans will be excited about the upcoming plans for the property."
Want to keep up-to-date on all the latest Redwall and Brian Jacques news, reviews, and special features? Get social with us!
Related Stories