Contributed by LordTBT at 2:14AM GMT, 9 November 2016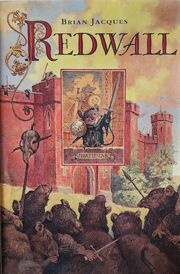 So it's been over two years since we learned anything new about a potential Redwall movie.
At that time, it was revealed to be in the portfolio of Working Element/RegalWorks, a production company managed by Darren Thomas.
Previously (circa 2011), the rights to a Redwall movie were held by the Miller Brothers. Things are a bit foggy here - it's unclear if they partnered with others and still have these rights.
At any rate, in 2014, we reported that Redwall was being optioned by Thomas' firm - certainly not a guarantee that a film will be made (although, we certainly hope so).
Earlier this week on Twitter, Alex Kain, known for his collaborations with Sean Rubin, announced that at some point he had "cowrote an official draft of a script for a Redwall film." This is major progress. It may in fact be the first known official screenplay draft for any Redwall film project. Kain went on to say he had "no idea" what happened to the script after he completed it.
I pressed Kain for a bit more information (who was his co-writer? who was the script for, exactly?), but he could only say it was written back in 2013.
It's important to note that in filmmaking, screenplays often go through multiple drafts - and the finished product doesn't necessarily resemble the first submission.
The tale of the development of 2014 Marvel film Guardians of the Galaxy comes to mind - Nicole Perlman's original draft was absolutely nothing like what audiences saw on the big screen, but it definitely got the ball rolling.
With any luck, even though it's been a few years, something is going on behind-the-scenes.
And the Redwall Wiki would certainly like to encourage Mr. Thomas, as well as any other potential companies/individuals working on a Redwall movie to reach out. We wouldn't mind hearing from you.
Want to keep up-to-date on all the latest Redwall and Brian Jacques news, reviews, and special features? Get social with us!
Related Stories