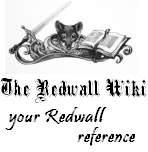 Redwall Wiki Turns 8
Today, the Redwall Wiki officially celebrates its 8th anniversary!
While Redwall Online Community activity has dwindled over the past few years, we're proud to be here and still serve as an active website and hub for Redwall fans across the globe.
This year, Redwallers truly went above and beyond by donating to the Soma Games Redwall: The Warrior Reborn Kickstarter, which achieved more financing than they were seeking.
If you haven't played Redwall AbbeyCraft: The Corsair's Last Treasure yet, we highly recommend you do, and when the server is available for all users, be sure to look for us and say hello.
Stay tuned to the Redwall Wiki, as we'll be continuing to release special Redwall-related features, the next of which you can look for in the coming weeks.
We really do appreciate everyone's support.
Want to keep up-to-date on all the latest Redwall and Brian Jacques news, reviews, and special features? Get social with us!