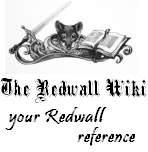 Redwall Wiki Turns 9
It's hard to believe, but today the Redwall Wiki celebrates nine years on the Internet!
We're pumped that Redwall fans continue to contribute excellent fan artwork and stories after all this time.
Over the course of the past year, the Redwall Wiki has taken steps to identify all of the languages that Redwall has been translated into. There is believed to be 28 or 29 ... and we've determined 24 of those. Do you know of any others? Let us know!
Also, if you watched the Redwall TV Series when it aired, you know that Brian Jacques always made an appearance each episode. Unfortunately, those appearances are not on the DVDs. We'd love to host these videos, and if anyone out there has them, please get in touch.
It wouldn't be a Redwall Wiki annual release without the announcement of upcoming features - and there are quite a few in the pipeline. Stay tuned!
In case you missed the last big one, check out what Chinese Redwall looks like.
Thanks to all the readers and editors who make this site what it is!
Want to keep up-to-date on all the latest Redwall and Brian Jacques news, reviews, and special features? Get social with us!