Contributed by LordTBT at 11:47PM GMT, 28 June 2010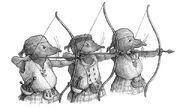 Redwall artist Sean Rubin updated his blog this evening, offering a glimpse of the artwork we can expect to see in The Rogue Crew, Rubin's second effort in Redwall novel illustration.
While it's unclear if this is a preliminary sketch or a final submission, what we do know is that this will probably be the heading for chapter 32, as indicated by the filename, which means there are at least 32 chapters in the book.
Not including the epilogue, The Sable Quean had 32 chapters.
You can check out the drawing, which consists of the mast and riggings of a ship, (is it that of the Rogue Crew?) at Rubin's blog.
Want to keep up-to-date on all the latest Redwall and Brian Jacques news, reviews, and special features? Get social with us!
Related Stories