Contributed by LordTBT at 11:42PM GMT, 9 September 2014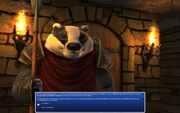 It's been many months since we've heard news from Soma Games as to the status of Redwall: The Warrior Reborn, which was originally scheduled for release some time this year.
Chris Skaggs has posted a new blog in which he discusses a number of obstacles that have come up since the conclusion of the Kickstarter in 2013, mainly tons of paperwork.
Upon realizing perhaps they were thinking too small, Soma has now released a pitch seeking additional financing and new partners. They're asking for $1.2 million.
What isn't 100 percent clear is if game development will continue if the requested funds are not raised.
It also appears as if the general direction of the game has changed too, but Soma is keeping mum on that for now.
Unfortunately, there are no new details in regards to game really at all, but Chris indicated he hopes to clear that up soon.
At this point, I would be surprised if we saw a game next year. Provided this Redwall movie does happen, it seems likely a release around that time would be most beneficial to all parties - and the way I see it, 2016 would be the earliest that hits theaters.
Many outlets are reporting the image of the badger accompanying Chris' blog post (a different image of the same badger is above) is a screenshot from the game - that's not accurate.
The badger is 'Neebrock,' and he's part of an upcoming Soma Games tech demonstration for Intel.
The demonstration seemingly places the gamer into the role of a vermin. Per the text:
You're a spy approaching your first real mission after weeks of training. Disguised as a Long Patrol hare, trying to get into Salamandastron, you face a cranky, but somewhat gullible badger named Neebrock who guards the door into the lowest level of the fortress.
Fighting Neebrock is a bad idea, the creature is massive, strong like a stone, and twice your size. So you've decided to try and fast talk your way past him and count on your brilliant disguise to do its work.
-Let's do this!
-Practice a bit more...
Soma also published a few clips of Neebrock in action, who resembles Urthstripe the Strong, on their Facebook page. View them here, here, here, and here.
Let's hope they find the partners, so game development can get back on track.
Update: 9/20: Soma's demonstration video -
Want to keep up-to-date on all the latest Redwall and Brian Jacques news, reviews, and special features? Get social with us!
Related Stories