Contributed by LordTBT at 1:19AM GMT, 20 February 2015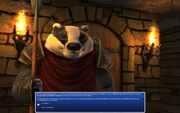 Back in September 2014, Soma Games revealed that they were seeking $1.2 million in financing and new partners, in an effort to continue development on Redwall: The Warrior Reborn.
Yesterday, Chris Skaggs announced that a majority of the funding has been received, primarily from Chattanooga, Tennessee-based nonprofit The Maclellan Foundation.
They've also received additional support from other investors, however they still have a little ways to go before reaching their goal. As such, they've opened up the process to a wider group. If you have big, big money you'd like to throw their way, you can learn more here.
Soma and Chris will be appearing at the Game Developers Conference (GDC) in San Francisco next month, with an extended version of the "Cloak and Badger" demo they debuted previously. In addition to Neebrock, it will feature another Long Patrol member.
Alas, no new details about the game itself have been shared. We hope that as soon as financing is complete, we can start to hear a bit more about the story, characters, and in-game functionality.
Want to keep up-to-date on all the latest Redwall and Brian Jacques news, reviews, and special features? Get social with us!
Related Stories