Contributed by LordTBT at 10:54PM GMT, 4 May 2013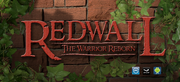 In a video update for backers of the Redwall: The Warrior Reborn adventure game project, Chris Skaggs of Soma Games mentioned a few details of the company's plan for the effort.
He stated that they want to have "three playable races," which could possibly include "mice, badgers, and squirrels."
The game will have "lots of exploration" and "[puzzles] will be a central aspect."
As of this writing, the Kickstarter has raised $9,281, which is a mere $1,719 away from becoming fully funded. At that time, various stretch goals for additional locations, character species, and more hours of game play will be unlocked.
If you haven't donated yet, or you just want to send more cash, the link is right here.
Want to keep up-to-date on all the latest Redwall and Brian Jacques news, reviews, and special features? Get social with us!
Related Stories