Contributed by LordTBT at 12:48AM GMT, 31 December 2016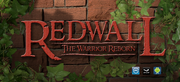 At the beginning of the year, Soma Games revealed render test footage of Cavern Hole for the Redwall: The Warrior Reborn video game, and they're closing the year with more test footage.
Last week, Soma shared "The Road to Redwall" - a 1:36 clip in a setting that appears to be a snowy Mossflower Woods, featuring a camera pan around a group of animals, including a female badger, a hare, an adult mouse, and two young mice, both of whom are on a sleigh.
It was made using Unity, Blender, 3D Coat, Gaia, and SpeedTree.
In the comments, Soma mentioned the background music is "an original work from one of our two artists that are composing for the game."
Soma also stated that the "game is set in the winter just prior to the book Redwall - so the era of Cluny the Scourge" - which seems like new information.
Previously, it was said that the game will occur DURING the events of Redwall, specifically the first third of the story.
We've reached out for clarification of this discrepancy, but as of press time haven't heard back. We'll update this article if we learn anything else.
Check out the video clip below, and have a happy new year Redwallers!
Update 1/5/2017:
Chris Skaggs from Soma has cleared up the game's setting. The current plan calls for six chapter-like segments, three of which take place before Redwall, three during.
Want to keep up-to-date on all the latest Redwall and Brian Jacques news, reviews, and special features? Get social with us!
Related Stories