Contributed by LordTBT at 1:06AM GMT, 16 January 2011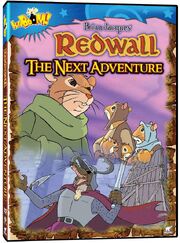 Last March, the Redwall TV Series returned to Region 1 DVD with re-release Redwall: The Adventure Begins by Phase 4 Film's Kaboom!.
The re-releases are continuing this spring, with the rest of Redwall - Season 1, Redwall - The Next Adventure re-issued as Redwall: The Next Adventure! This DVD is scheduled for a April 12, 2011 release date, with a price tag of $7.99, the same as before.
The disc has a run time of 154 minutes, and the official synopsis is as follows:
While Cluny plans to recapture the tapestry by burning down the Abby gates, Matthias is determined to renew his search for Martin's sword. He now must find Asmodeus's hideout and learns that only the Fierce mouse-eating owl, Captain Snow, knows where it is. Join Matthias on this courageous journey to recover a legendary lost weapon, and watch as he develops the friendship between his beautiful and brave mousemaid, Cornflower. Through this epic adventure he realizes that a big heart and courage can be more useful than brute strength.
Also worth noting is that Kaboom! listed the Redwall Wiki in their official product factsheet! Thanks guys!
Want to keep up-to-date on all the latest Redwall and Brian Jacques news, reviews, and special features? Get social with us!